Artistic activities with the participation of parents and children help to bond and learn together. Keith Haring is a visual artist who became known for his activism and for democratizing art. In this activity, we propose some creative family time inspired by this great New York artist.
Who is Keith Haring?
American artist, designer, painter and sculptor Keith Haring was born on May 4, 1958, in Reading, Pennsylvania. At the beginning of his career, he discovers the alternative culture particularly in New York's East Village during the 1980s.
He finds his style in the repetition of synthetic forms, underlined in black with bright colours, and he works on different mediums.
He finds his subjects and inspiration in urban landscapes: streets, metros, warehouses, etc. In it, a permanent narrative where we can find babies on all fours, dolphins, television sets, dogs, snakes, angels, dancers, androgynous figures, flying saucers, pyramids and alarm clocks.
Keith Haring died on February 16, 1990, in New York. Before leaving us, he participated in several major causes, including HIV research.
Step 1 : Preparation
We offer 2 easy ways to make a work of art à la Keith Haring. In both cases, parental supervision and help may be necessary. Depending on the child's age and abilities, a parent can help create the shapes and outlines, and let the children colour in the spaces. Here are examples to inspire you, or to copy.
For the giant fresco, you will need:
• Large white chalk and coloured chalks.
For the interior mural, you will need:
• A large piece of brown kraft paper;
• Colouring pencils, markers and/or paint.
Step 2: The giant fresco
Now it's your turn to draw a really big "Keith Haring" picture on the asphalt, like a fresco, with your white chalk. Then you can colour in the shapes with the other colouring chalks. Like Keith, use the colours you like, especially bright ones! Fill in the spaces, and leave some blank if you like, it's your work of art! To bring your characters alive, add small lines around the shapes, to create the effect of movement!
The idea is to create a giant work of art, in a place people aren't used to seeing pictures and colour. It's beautiful, and it makes passers-by smile!
Step 3 : The interior mural
The indoor version of this activity is very similar. Place a large piece of kraft paper on the floor or tape it to a wall, then draw the outlines of your shapes. The idea is to make "a mural".
Once you have traced the outlines of your silhouettes on the kraft paper, it's time to add colour! If the children are old enough, they can trace the silhouettes themselves or create new ones, always in the style of Keith Haring.
Once the fresco is done, you can showcase it in the family living room!
Diary
On today's logbook page, children can describe the emotions they felt during the creation of their fresco or they can draw faces representing their emotions. The possibilities are endless!
We invite parents to ask their kids questions about today's activity to feed and improve on their journal entry as well as to engage them in a nice conversation. Here are some questions you can ask:
What do the colours in your fresco represent to you?
 Have you ever seen a real mural? If so, what was the image depicted in it? If not, we invite you to take a stroll downtown Sudbury and discover its murals

What did you like most about this activity?
Did you know... 
… Keith Haring preferred to work outside and on the street. So everyone could enjoy his art. He pasted posters, painted walls, drew on sidewalks and in subways with chalk. Now it's your turn!

… Keith Haring also loved music and dance. He saw breakdancers bust out really great moves in the streets and depicted them in his silhouettes. Can you draw really cool dance moves?

… Keith Haring's techniques and style are easily recognized. His dog figures and radiant babies have become legendary. Discover his top symbols and develop your own symbolic language.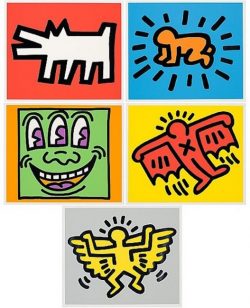 To take this activity further and be inspired by more Keith Haring, visit this web site.
Curious to learn more about the world of Keith Haring? Watch interviews and excerpts from guided tours in the Keith Haring Exhibition.
Activity by Matante Claudette.