The diary is a communication project full of learning potential based on the children and families explorations. 
The content of the diary is based on the children's explorations, family's activities and the feelings that come out of those educational experiences. Its goal is to facilitate a certain curiosity, a desire to express oneself and to develop a good communication.
Step 1: Create
This diary can take many forms. What's important is to have several sheets of paper attached together.  
Do you want to go all out and make this diary a unique and handmade object? We encourage you to make it yourself! With materials that you can find around the house, like draft papers, twine, cardboard, or recycled objects.
Here is an example of one of the many ways you can create your own diary, but we invite you to improvise with what you have at home! Be creative, with adult supervision of course. 
Getting excited yet? Are you in a rush to start filling in your diary? You can use an existing notebook that you have at home, or paper sheets in a binder. 
Step 2: Customize
Step 2 is all about decorating your diary to suit your own style, with materials lying around the house.
Once again, we encourage you to upcycle with everyday items such as buttons, stickers, old magazine pictures, wool, fabric, dry pasta, paint, etc.
Your diary is a unique and personal object. Imagination is key!
Step 3: Write
Once you're satisfied with your diary's look and feel, it's time to start filling it in!
After choosing a title and writing your name, you can put the date on the first page.
It is important to note the date everytime you use your diary, so that you can remember all the activities easily. We invite you to write about what you do as a family, or demonstrate your activities with a drawing, a collage, a story, a poem, or even by using objects linked to the activity, like a feather, a leaf, a flower, etc. It's really all up to you!
Leave room to write questions related to the day's activity. For example:
How will you use your diary creatively everyday?

What will you include as a proof of your discoveries?

What are you most looking forward to document?
We invite you to share pictures of the diary you and your family created on the Facebook page of Carrefour Francophone de Sudbury! Have fun!
Matante Claudette already made her diary! here is the transformation: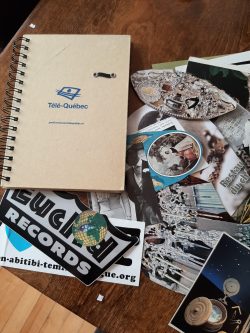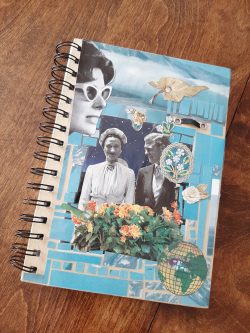 An activity by Matante Claudette and Kim de Bine.